From April 25th to April 29th and in May, NovaTris and the Chair in Interculturalities facilitated a training programme for intercultural trainers. The training gathered 15 participants from the European Alliance EPICUR.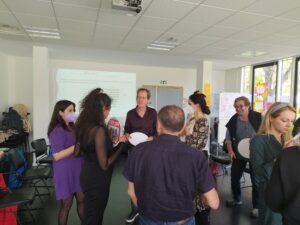 During a one-week first session gathering all the participants in Mulhouse at the Illberg Campus, trainers combined ice-breakers and practical exercises with theoretical points that make up the NovaTris pedagogy. Participants especially appreciated the opportunity to discuss topics such as stereotypes or teamwork and to share their own practices and experiences.
The climate of trust established by the trainers during the first session contributed to the smooth running of the second one, which took place online. Over 5 days in May, participants met several times to further their training by developing their own projects related to intercultural accompaniment. While some adapted a NovaTris tool to the EPICUR context, others discussed integrating intercultural accompaniment into Erasmus buddy programmes or reflected on how to ensure that teachers giving EPICUR courses also accompany students in their intercultural journey.
This new EPICUR training was a great success and allowed participants to build a network of intercultural trainers. Their diverse profiles (staff members, teachers, researchers, etc.) and disciplines also contributed to rich and lively exchanges.
You made us feel very welcome and managed to create a great group experience for everyone!

I really feel that after this week I can start working on supporting an international classroom.

Wonderful, thought-provoking interactions with a diverse set of participants.

I loved the various simulations and icebreakers. They all led to great discussions.