Training in intercultural accompaniment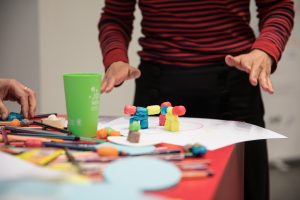 The training in intercultural accompaniment is aimed at anyone who is active in teaching or accompaniment, or wishes to be, and whose practice involves intercultural aspects in the broadest sense (inter-national, inter-professional, inter-personal, etc.).
It aims to enable learners to integrate intercultural accompaniment methods into their projects and professional practice.
The personal and professional experiences of each learner form the basis for individual and/or group work. At the end of the course, each participant will have developed tools specific to their needs and context.
Content of the training
The course lasts 42 hours. It includes a one-day online introduction and a five-day face-to-face session.
During the course, participants experience the NovaTris' Teaching Methodoloy through different intercultural and linguistic modules. Then they reflect on them through the theoretical contributions of the trainers. While discovering the tools of active pedagogy, they are thus led to reflect on and deepen their intercultural competence.
At the same time, the participants develop concrete group projects with an intercultural dimension. Together, they co-construct an intercultural accompaniment system, put into practice the practical and theoretical contributions of the training and develop new tools.
Access to the NovaTris Toolbox
In addition to the face-to-face training, participants will get access to the NovaTris Toolbox, which provides all the pedagogical tools developed by NovaTris and which they can use in their own training.
Information and registration (in French)
What People Say
As a teacher and researcher, participation in this course had a twofold interest for me. I have been working interculturally for a long time and am interested in everything new in this field. Quite honestly, I found the approach during Session 1 quite disconcerting at first, but the instructors' strategies finally made me question a fair number of principles that I was applying in my classes. Session 2, which was very intense, then helped me to enrich my classes with new methods (experiential learning, verbalisation of experience, etc.). This course forced me out of my comfort zone and helped me to reposition myself, both professionally and personally. I am now considering offering an intercultural support project at my university in Romania, where the approach proposed by NovaTris would be truly innovative. *
Nora-Sabina Marcean, Master of Languages / Exchange Reader at the Institute of Romance Studies in the Language Faculty at the Université de Strasbourg
*These comments have been translated from French.