Intercultural Trainings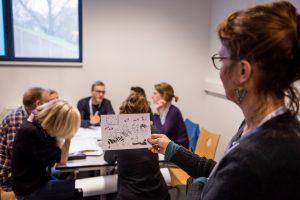 NovaTris courses put emphasis on the processes that occur during interactions between individuals and groups. Their objective is to enable the learner (student, teacher, employee, entrepreneur, etc.) to acquire and develop the intercultural skills and experience needed feel comfortable in an intercultural environment.
They guide learners towards independence, of both action and method, so learners can develop their skills on their own, beyond the course.
The work on analysis and knowledge focuses as much on others as on oneself: the learner develops their own intercultural skills individually, depending on their circumstances and their personality.
The intercultural and language courses are customisable. The location, duration, content and objectives will be confirmed, depending on demand. Courses may be delivered in French, German, English and/or Spanish.
More information on NovaTris Teaching Methodology
NovaTris Course Structure
The structure of a NovaTris education module may vary, depending on the educational needs and objectives. They are based on 5 types of complementary activities:
Ice-breakers: enable participants to make initial contact and begin to build a climate of trust.
Creation of random groups: helps to encourage new interactions, to participate in short, fun activities.
Main activities: based on concrete experiences, the topics (related to interculturality) depend on the educational context and objectives.
Formalisation: done collectively, in groups and/or individually, this helps to express the experience in words.
Conceptualisation : based on formalisation, the experience can then be expressed as a problem and analysed to define its underlying concepts.
This structure can be enhanced with relevant theoretical contributions.
Examples of intercultural courses NovaTris
Socio-Economic Contribution
What People Say
I think that, for Eucor – The European Campus, two things are important: firstly, breaking down the language barrier, and secondly, partnering up teams who are working on similar topics. This course tackles the language issue and I think it does so in a pragmatic way. I felt that the course accelerated learning by encouraging language practice with Speakers of Other Languages. This therefore led to cultural exchanges, built on good communication and learning practices. *
Michal Parusinski, Université de Strasbourg

Training Course « Communicating In Another's Language »
*These comments have been translated from French.
Photo credit : Victoria Harster